Jimmy Graham and tight ends like him took a shot across the middle of the field yesterday as an arbitrator ruled that he should be deemed a tight end in his franchise tag case. The hit Graham takes is roughly $5 million as he could have made $12 million this upcoming season had he been labeled a wide receiver.
The case was closely watched by not just tight ends but outside linebackers as well. Some in the 3-4 defense felt their value was greater than an outside linebacker in a 4-3 defense. The outcome of the Graham situation likely won't change their feelings but it won't help their case much either.
Despite lining up away from a traditional tight end position more than 60% of the his offensive snaps, the arbitrator ruled against Graham because defenses still accounted for him as a tight end on even larger basis. He found that Graham was much more frequently covered by a linebacker or safety rather than a cornerback.
Graham probably didn't help himself much either as he lists himself as a tight end on his Twitter bio page.
What's next for Graham and the Saints is more negotiations. The Saints obviously want to sign him to a long-term deal and would love to get that done prior to the start of the season.
Graham's camp is in an interesting position. They might still feel he is worth wide receiver-type money and may want to test the free agent market next winter. The downside of that is scenario is that Graham will need to have another big year. If he can't replicate the numbers he had in 2013 then his stock takes a hit and therefore, so will his potential contract numbers.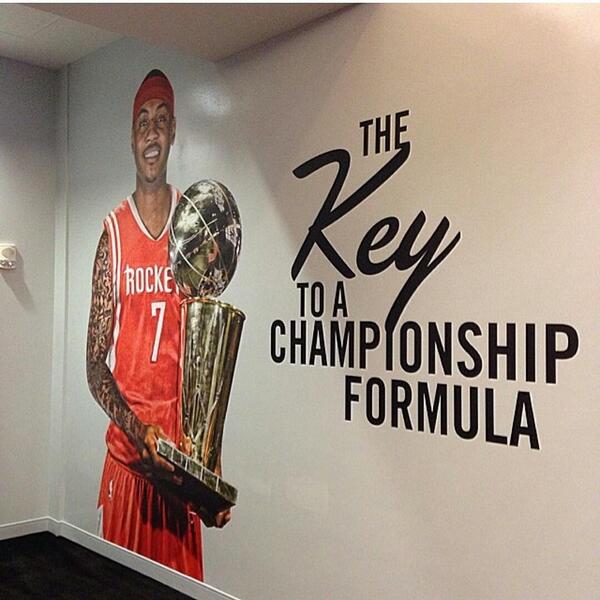 Recruiting in the Professional World
We all know just how crazy the recruitment of potential college athletes is and can be. From promises of starting positions, to guarantees of being drafted, players are pretty much wined and dined so that they will come to that particular school.
I honestly don't know if free agency in the National Basketball Association was supposed to mirror collegiate-type recruiting but I'm pretty sure it wasn't. Despite this, recruiting in the NBA is alive and well and it's the players doing it much more so than the teams themselves.
Consider that in Oklahoma City, both Kevin Durant and Russell Westbrook were present when the pitch was made to free agent center Pau Gasol. Dwight Howard and James Harden have reportedly had contact with Carmelo Anthony who visited Houston this week. Kobe Bryant was expected to be present when Anthony visits the Lakers as well.
In the grand scheme of things, players are going to talk to each other. This is what happens when they get to know each other through All-Star Weekends and playing on Olympic teams together. There is nothing wrong with the players talking. Free agent players want to know what the coach or general manager is like in a particular city they are considering.
That said, I'm not sure the level of communication was supposed to be quite like this. That said, the one thing I hate that comes from all of this is the ugly discussion that fans raise about a free agent taking money over a chance to win. LeBron James actually took less money to go to Miami in an effort to win yet now people are upset with him because it's been rumored he wants a max deal.
Are you telling me you wouldn't want the most money you could get?
Either way, the recruitment process has come to the NBA in one form or another whether we as fans like it or not.